Special Order Steering Wheel Covers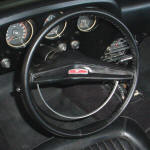 Special Order Sizes:
Covers can be made by special order for any steering wheel that is not accommodated by the standard sizes. Please use the measuring instructions below to determine the size of your wheel and submit them when placing your order. 
Wheel Measurement - Just 2 measurements will tell you what size you need
---
After you have your measurements select the style of wheelskins you would like to order below:
---
Covering Factory Leather:
Many of these models come equipped with Factory-installed leather covered steering wheels. The Wheelskins size might vary depending upon whether or not the old leather covering is removed. If the Wheelskin is to be installed over the original factory cover, you might need a larger or special order size. Please measure.
"Trucker" Series covers are available for heavy duty trucks in 18", 20" and 22" sizes.